In Memory of Jenny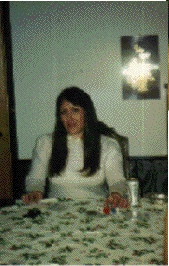 .This is the memorial I wrote and put
in the newspaper. after Jenny passed.
In Memory Of
Jenny (Campbell) Dwyer
Just a short time ago....(February 3rd, 2000) I lost someone very very special and important to me.
My cousin Jenny. Jenny and I were best friends ever since we were little kids, and we remained best
friends throughout our adult life. At her memorial service I had planned to talk about some of my
precious memories I have of her, but I couldn't, my heart was breaking to badly to get up and speak.
I feel bad for not getting up and telling everyone how much she meant to me, so I decided to write it down.
That way I can cry as I type, walk away when I need to, and come back and finish when I can see the keyboard.
I love Jenny so very much, her and I were so close, she knew every thing there is to know about me, I could
tell her anything. If it was something sad she'd make me laugh to help me feel better, if it was something funny
we'd laugh and laugh until I usually had to run to the bathroom. HONEST!
My precious friend and cousin passed away before I could tell her that I finally got married.
An important step in my life and I didn't have the chance to tell her, I don't think she knows, and I wanted so
much to share that with her when she got well, there are other things too that I wanted to share with her but didn't
get the chance before she left us.
I have so many memories of her flowing through my heart. Fred dog is one of my favorites. Jenny got a little dog
a few years ago and named him Fred. He was so cute, I think he was a peek-a-poo, all black. She taught him alot of
tricks, the best one was Low Fred. which was a low bark, you could barely hear him it was so quiet, it was so cool.
He'd roll over for her, sit up, speak, and more. That little dog brought alot of happiness in Jenny's world, I hope
they are together again.
Another memory I hold dear to me is when my brother Kipp died in 1974 Jenny was beside me throughout the
whole tragedy. She is the one who held me up (literally) and walked me in the funeral home. Even though she was
in pain too, she gave me strength and helped me grieve for my brother. Somehow being with her took away some
of the hurt. A comforting thought.....I know when Jenny got to the Pearly Gates, Kipp was there welcoming her in
and I know Jenny was happy to see him again.
When we were young girls we were in love with the TV show "Alias Smith and Jones" We would record it on our
tape recorders (there were no VCRs back then) and listen to the show over and over until we knew all the words to
it, and when Peter Duel (Smith) killed himself Jenny was crushed, so was I, we knew our favorite
show was no longer gonna be on TV, as silly young girls we were in love with the actors and we grieved together
over our loss. I still have the letter she wrote me about her feelings over it...that's been about 26 years ago or more.
Jenny took me to school with her one day, we had so much fun that day. Jenny was popular in school and it was so
neat hanging out with her and her friends, I felt really "cool" I loved it. Then I took her to school with me and
her and I got sent out of class for laughing to much. I have never laughed so hard and so much with anyone
else other then her, we had alot of fun together, got in a little trouble too, but that's what kids do. I don't know how
many people know this if any, but we even had nick names we called each other for years...hers was Soup and
mine was Santa and sometimes Bottle.
I had the pleasure of watching her youngest son a couple times last week. He is so sweet, polite, loving and full of
hugs.You did good with him Jenny, be proud of yourself for him, he's a wonderful boy, just like his mom!
I love you so much Jenny,you are very important to me,our friendship and the love we have for each other will
always be in my heart, I will cherish all my memories I have of you and for the rest of my life I will miss you
terribly. You are at peace now, all your demens are at rest, and your Higher Power will look after you and keep you safe.
I hope you come and see me in my dreams. God Bless You. Amy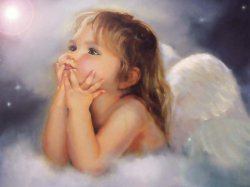 Cousin to Cousin
We're from the same shoot, the same family tree,
Into this world we sprouted, call it destiny!
It's Cousin to Cousin~A Special Thing~
A closeness to which we're tied
You've always been there to laugh with me,
Or even when I cried
Anyway I think it's fantastic
that you were meant to be~
A part of my life,
My cousin, you'll always be special to me!
I LOVE YOU JENNY
4/5/2002










I'M FREE
Don't grive for me, for now I'm free
I'm following the path God laid for me,
I took his hand when I heard him call
I turned my back and left it all.
I could not stay another day
To laugh, to love, to work or play.
Tasks left undone must stay that way
I found that peace at the close of day.
If my parting has left a void
Then fill it with remembered joy.
A friendship shared, a laugh, a kiss.
Ah yes, these things, I too will miss.
Be not burdened with time of sorrow.
I wish you the sunshine of tomorrow.
My life's been full, I savored much,
Good friends, good times
A loved one's touch.
Perhaps my time seemed all to brief,
Don't lengthen it now with undue grief.
Lift up your hearts and peace to thee.
God wanted me now, He set me free.
Jenny I miss you so very much
Who are You?
You're...
My friend,
My companion,
Through good times and bad
My friend,
My buddy,
Through happy and sad,
Beside me you stand,
Beside me you walk,
You're there to listen,
You're there to talk,
With happiness,
With smiles,
With pain and tears,
I know you'll be there, throughout the years!
~Thinking of You~
Time passes
Years go by
Friendships come and go
Some you keep and some you leave
And some you cherish so
It's times like this
I think of you
Remembering all we've done
The good times and the bad times
And all the times of fun
Just want to say
I think of you
To know you really cared
And I am glad that we are friends
For all we've ever shared
Just thinking of you........
I MISS YOU JENNY
8-12-2000